NBA 2K20 apk is a basketball game from 2K Games available for free download on Android. As it is official NBA video game for mobile devices and gaming consoles, it features high quality graphics, good game physics, realistic NBA players, modern roster and top-level AAA quality gameplay.
If you are NBA fan or like basketball in general, you'll enjoy a lot with NBA 2K20 game as it is really one of the best sport games for Android even in 2023! NBA 2K20 apk is part of beloved NBA 2K Franchise from 2K Sports, so you can set your expectations pretty high! There are countless of ways to customize your characters and players, environment, play different matches with different rules and tournaments, improve your basketball skills, build your dream team and explore career mode.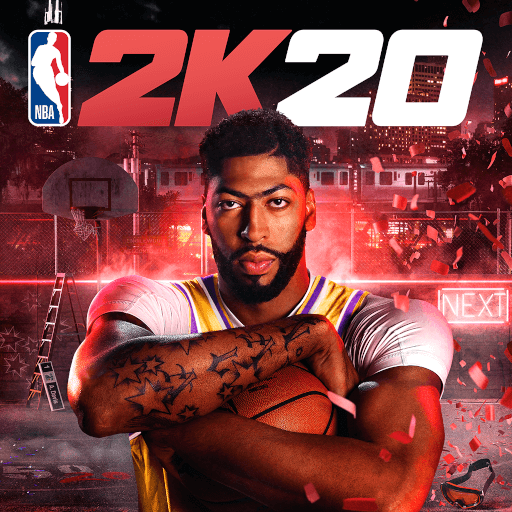 Version: 98.0.2
Mod version: 98.0.2
Size: 3.20Gb
Requires: Android 4.3+
Updated: 23 August 2023
NBA 2K20 apk download
NBA 2K20 is high quality, premium game so it is in paid game section in Play Store, however you can download NBA 2K20 apk and obb files for free from this page and install them manually. Additionally, you can download NBA 2K20 mod apk for free!

Please note, to successfully run the game you need to download both apk and cache. You need to download only one apk – original apk or hack/mod apk as you can't install both of them at the same time because the package name is same.
How to install NBA 2K20 apk
Big games like NBA2K20 apk obb require different installation than smaller, apk-only games. Don't worry, here's step by step guide to how to install NBA 2K20 apk and obb files on any Android phone or tablet:
Download apk or mod apk(only one of them).
Download cache/obb zip archive.
After cache zip archive is downloaded, open it and extract.
Move extracted folder com.t2ksports.nba2k20and to Android/obb.
Install apk, open the game and play!
That's all, you have successfully installed 2K20 apk on your Android smartphone!
P.S. If you have Android 13, make sure you have root access or compatible file manager which allows you to move folders in Android/obb and Android/data folders.
System requirements:
As NBA 2K20 for Android is quite large and heavy game, a modern flagship Android device is highly recommended to play it smoothly.
Minimum system requirements:
2Gb RAM
1.2 Ghz Quad-Core CPU
Adreno 620 or simi;ar GPU
4Gb free space on internal storage
Recommended system requirements:
6Gb RAM
2.3Ghz Quad-Core CPU
Adreno 650 or similar GPU
6Gb free space on internal storage
NBA 2K20 Apk Obb
High quality Android games with lots of levels, HD or Full HD graphics and powerful gameplay are usually large in size. Apk files are installable files, limited in size so big Android games require additional files such as cache, data or obb to run successfully. That's why you need both NBA 2K20 apk obb files and why you should only install game after moving cache to right location.
It is always imprtant to make sure all files are same version or they may not work. Also, its always good to make sure you're getting new, updated version which supports latest Android OS versions. To be safe and sure you need to download nba 2k20 apk obb latest version so you can be sure it will work on your Android device and you'll be able to play the game!
NBA 2K20 Mod Apk
If you want to make it easier and progress faster in the game you need to download NBA 2K20 mod apk. With our apk mod you can get your favorite NBA characters right away, you can buy anything in the game right from the start and make it more fun.
Mod includes unlimited money, ulimited coins, all unlocked players, mod menu and free shopping in game's shop. You can also get exclusive outfit and balls with our mod apk.
Game screenshots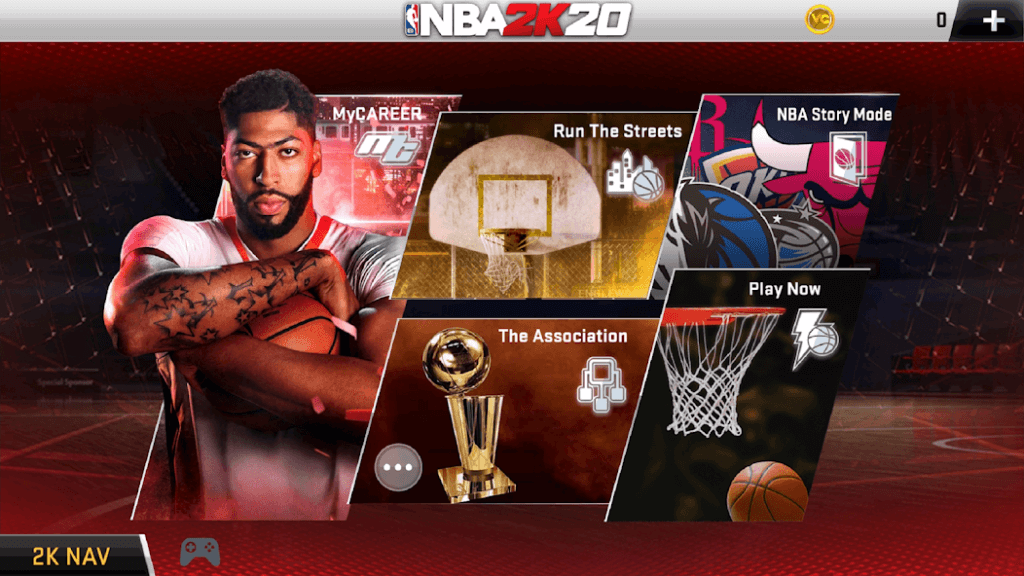 Gameplay
NBA 2K20 was developed by Visual Concepts for 2K Inc, so you can expect high quality gameplay and graphics as Visual Concepts Entertainment is experienced video game developer who develops sport games for decades for Windows, Mac, Xbox and PlayStation gaming consoles.
NBA 2K20 includes improved gameplay thanks to its new AI powered game engine and various improvements in physics. Unlike older versions new NBA 2K 20 has even more realistic physics, more detailed and realistic characters and better, faster gameplay enhanced with updated 2K Beats Soundtrack and songs from Drake, Diplo, T-Pain…
All this changes makes NBA 2K20 Android version same quality as PC or Console games so you can play console quality basketball game right on your mobile!
Graphics
Another upgrade from previous 2K games is graphics. With new, improved seens and FHD graphics playing NBA 2K20 on Android is even more enjoyable. Better colors and more detailed textures with 3D effects gives it premium feel which isn't available in most other basketball Android games.
While display quality is great, unfortunaley unlike Windows, Xbox and PlayStation versions, NBA 2K20 mobile version for Android and iOS doesn't support 4K graphics as there are just a handful of Android phones with 4K screens. This still isn't a big issue as not many Android gamers will play this game on TV with wireless Bluetooth controller.
NBA 2K20 Features
As there are many great features and improvements in the game, here is quick rundown of its top features:
Realistic physics and gameplay
High quality 3D graphics
All players from AllStar
5 v 5 multiplayer mode
Advanced game AI
All NBA teams
Rewards system
WNBA support – play with your favorite female NBA players!
Highly customizable characters
Improved defense of shooting from game AI
Console quality gaming experience on mobile
Many game modes including Playground, Practice, Career, Multiplayer and all-new NBA Sories mode
Also, there's all new and improved manager mode where you play as a GM instead of NBA player. You can make important decisions, manage budget and costs. , manage different classes such as the rookie class, roaster. scout… So you can have a lot of fun as general manager.
What's new in NBA 2K20
There are many small and big improviments from older NBA 2K19 game, here are some of the major news and updates to NBA 2K20 apk which makes it ultimate basketball simulation for smartphones:
Improved controls optimized for mobile
Bigger NBA roster
5 new NBA Stories
New MyCAREER mode with better storylines
New Run The Streets mode
New streetball mode in Blacktop
New 2K Beats Soundtrack
FAQ
Is NBA 2K20 download free and safe?
If you download NBA 2K20 apk obb files for Android and install it manually then it is 100% free. However you can purchase directly from Google Play Store for a fee. For iPhone/iPad as well as for consoles, you need to buy it.
What is latest version?
For Android NBA 2K20 Apk v98 is latest version, however you can also download other versions like v97.0.4, v75, v78 and 1.0.1 if you prefer older versions.
How big is the NBA 2K20 Apk?
The full game on Android including all necessary files is really bug. While apk is small NBA 2K20 obb is 3.20Gb in size. This makes it one of the largest Android games till today!
Can I play NBA 2K20 Apk offline?
Yes, you can play it offline in practice, career or tournament modes, however you need internet connection for online multiplayer mode
Rated 4.5 – 891 times