Info
Developer:
Disruptor Beam
Download size:
49Mb
Version:
1.1.65
Requires
Android
: 4.0 & Up
Download
Description
Disruptor Beam's award-winning FREE GAME game based on George R. R. Martin and HBO's Game of Thrones series has come to Google Play! Pledge yourself or your Alliance to the Starks, Lannisters or Targaryens, embark on quests with Jon Snow, Tyrion Lannister, or Daenerys Targaryen, and rise to power in the free Strategy RPG based on the hit HBO series Game of Thrones and George R.R. Martin's novels A Song of Ice and Fire!
See what over 9,000,000 players are already raving about!
"Dripping with enough fan service to please even the most hardcore Game of Thrones fan." – Touch Arcade
"[a] wildly popular social/mobile game that manages to capture the intrigue of the popular TV show." – Kotaku
"Jon and his designers took great pains to make sure the flavor of the novels is here. I saw alliance building, treachery, marriages, murders, and most of all the constant struggle to be the greatest house in Westeros." – George R. R. Martin
—————————————————–
PLEDGE FEALTY TO THE GREAT HOUSES
Swear Fealty to one of the great houses – Stark, Lannister, Targaryen, Baratheon, Tyrell, or Greyjoy – and consort with familiar characters. Perhaps Tyrion will drop by for dinner, or Ser Jorah will check in on your support for Daenerys? Or maybe you'll find yourself at Robb Stark's side in the feast hall for the infamous Red Wedding!
EXPLORE THE STORY LIKE NEVER BEFORE
Your quest begins in the days before the mysterious death of the King's Hand, Jon Arryn. With over 3,500 quests taking you through every season of HBO's Game of Thrones, dozens of adventures, and hundreds of iconic items like Ice, Longclaw, and Baby Dragons, your decisions impact how the story unfolds!
FOLLOW THE SHOW
Frequent updates with content matching new episodes on HBO! As each episode airs, see new quests each week and explore the show like never before! Create your story through Seasons One, Two, and Three, and create your own history in our unique Volume You!
Prepare yourself: Winter is Coming!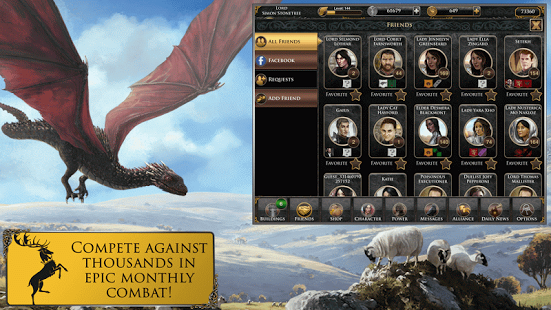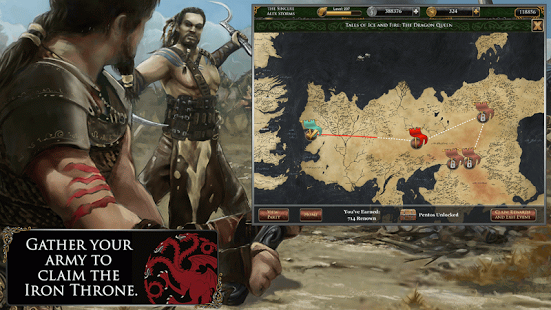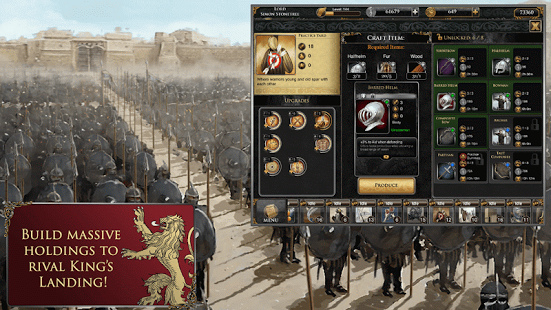 Gameplay video
 How to install Android game? Learn here!