Info
Developer:
Game Insight
Download size:
61Mb
Version:
2.9.0
Requires
Android
: 4.1 & Up
Mod info:
Unlimited money
Note:
! Requires internet connection to play
Download
Description
✔ "A brilliant multiplayer FPS that you should just go and play right now. 9/10" — PocketGamer
✔ "It's so simple that your cat can learn the controls, but the skill-cap is high enough to make even hardened FPS veterans break a sweat." — Android and Me
✔ "Guns of Boom has gone where no game has gone before – it's a legitimately great shooter on mobile." — Droid Gamers
✔ "You've never seen an FPS for mobile quite as good as this. You will come back because the game experience is just topnotch." — AndroidCommunity
✔ "Guns of Boom is some solid, streamlined shooting that feels better than quite a few other mobile shooters." — 148Apps
• Easy and intuitive controls: pump your opponents full of lead from the get-go!
• Awesome graphics for immersive gameplay: stylish levels and cool animation will keep you glued to the screen!
• Autofire: all you need to do is get the enemy into your crosshairs.
• Dynamic battles: play on a team and rip your enemies to shreds! The more active you are in battle, the better your reward will be!
• Various guns: 48 weapons to choose from, including machine guns, assault and sniper rifles, shotguns, and more. Each has its own unique ability: increased headshot damage, slowing down enemies, and even health leeching. Find a gun that fits your style of play!
• Explosive fun: free mobile shoot-outs that will leave your heart pounding! Gear up, soldiers!
Soldier!
You are one step away from action-packed combat! Can you keep steady aim under heavy fire and gun down enemies while grenades are exploding all around you? Can you handle that kind of fun?! Welcome to the game then!
This ain't no regular army, though. No one will tell you what to do or where to shoot. You have to make your own decisions and choose your own battles. Team up with other soldiers, get good at killing opponents and dominate the battlefield. Make a blitz attack, spraying lead in all directions, or try and shoot your opponent from a safe distance, taking your time to aim directly for the head. It's always your call.
 Now, these wars won't fight themselves! Get to the armory, gear up, and start making a BOOM! On the double!
Guns of Boom is a hardcore multiplayer shooter with eye-popping 3D graphics and blood-boiling gameplay. It's so simple that your cat can learn the controls, but the skill-cap is high enough to make even hardened FPS veterans break a sweat. Engage in online PvP battles on a variety of maps, utilizing different deadly guns, as well as frag grenades and med kits. Experience the ultimate competitive tension without leaving your couch!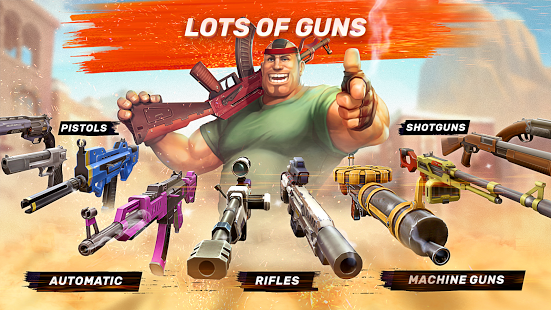 What's new
NEW GAME MODE: PRO PLAY (Beta version)
• Unique eSports mode made specifically for tournaments
• Developed in cooperation with professional eSports teams: Na'Vi, SK Gaming and Virtus.pro
• ALL guns above level 22 have the SAME POWER LEVEL
• Max Health and Armor are capped
This Beta version needs your feedback to make improvements! Take part in developing the new mode by giving us YOUR IDEAS and suggestions!
Gameplay video
 How to install Android game? Learn here!
Keywords: Guns of Boom mod apk, Guns of Boom apk download