Info
Developer:
Zitga Studios
Download size:
88Mn
Version:
2.1.8
Requires
Android
: 4.1 & Up
Download
Description
Stickman Legends – This game is the greatest combination of role-playing game (RPG), action and shooting games. With full of sword, archer, gun, fire and bullet, you will be brought to the awesome adventure world. Like other fighting games, you have to face off against many monsters and mighty opponents but more than that, you have an opportunity to show your shooting skill as to be in the gun games. No more concerns about the internet, now you can enjoy this game every time you have and everywhere you are with full action game experiences. Are you ready to be the greatest player in this warriors game?
In each adventure battle, you'll play the warriors who are on a journey of conquering the dark world which filled with a lot of swords, weapons, skills and awesome skins. Be ready for an exciting game, you can be a fighter and master the sword game. Do you have the drive, courage & passion to master this Warriors game!
▶ BATTLE
When the battle begins, each ninja needs to fight off the dangerous monster that are constantly attacking him. Whenever you want to hack them, slash them use the great controls on the right bottom side to kill or avoid getting killed. This is an insanely hard battle all the time but if you use multiple skills, you will have ability to make your hero more powerful. Try not to be hard hit by the monster and his magic legion.
▶ DESIGN & GRAPHICS
You will be stunned with the graphic & sound effects of this game. Be a hero, do some crazy powerful magic and burn the darkness world. Beside that, at the end of each level there are a slow motion that will amaze you to the fullest . Smartly utilize the controls for fighting with maximum effect!
▶ TONS OF DIFFERENT UPGRADES
Enjoy utilizing the multiple upgrades in the best rpg games. Some monsters are extremely dangerous & you will need more powerful weapons than the starting ones. Upgrade the attack, armor, health & critical in the greatest rpg to be better and better in each level!
▶ UNLIMITED ITEMS
There are different characters in game, and the levels, attack, defense & hp are really important in how well you will cope with the enemies. You can upgrade or even buy more gem, stamina, gold etc. Skills help them increase their power many times & wipe out the enemies at a glance in each war. Warriors can also use special abilities & weapons to destroy the monster faster like swords, archery… in each legend.
▶ THE GLOBAL RANKING
There are rankings to make things more interesting and entertaining. Take your warriors game to the top by battling in a smart & skillful way. Make friend all over the world with ninja games and compete your ninja with your friends..
▶ FEATURES
– Ultra-stunning graphics
– Easy controls in every battle
– Ability to upgrade the hero
– Global leaderboard like any fighting games
– Ability to scale up the levels
– Thrilling sound effects
– Slow motion end
Stickman Legends game is an unforgettable experience. Heroes require highly-professional skills. Will you help our heroes in his fighting and killing against the scare enemies.
Download Stickman Legends – Ninja Warriors: Shadow War and share your moment with your friends now.
Follow us, like & share:
– https://www.facebook.com/StickmanLegends
– https://twitter.com/stickmanlegend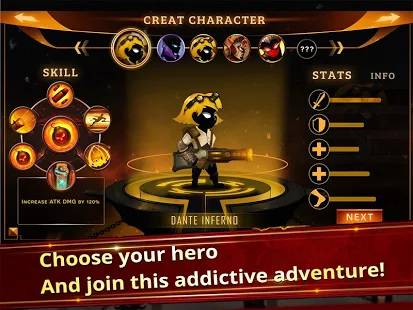 What's new
Fixed bugs arena and trying hero
Gameplay video
 How to install Android game? Learn here!
Keywords: Stickman Legends hack, Stickman Legends apk, Stickman Legends download