Info
Developer:
NobStudio
Download size:
72Mb
Version:
1.4.0
Requires
Android
: 2.3.3 & Up
Download
Description
GooglePlay Best Games of 2015!
Top 1 Paid App, Overall Games, RPG and Simulation in France, Australia, UK, Taiwan, Hong Kong & Singapore App Store!
Top 1 RPG in 89 countries!
Top 1 New Paid in UK, Australia and Canada!
Top 2 RPG, Top 3 New Paid in United States!
Touch Arcade forums' Game of the Week!
"with that many features, and its replayability value, it's hard to put down the game once you've started playing." – modernjamming
"This game has no IAP of any kind and the replay value is huge." – idownloadblog
"Huge game with a lot of content, Solid RPG with survival like timetables" – indie-love
"Prison Life RPG is surprisingly deep." – Pocket Gamer
"There is so much going on in this game that only paying $3.99 feels like a crime. " iOS App of the Week – iPhoneFAQ
—————————————–
Dear prisoners, this is Warden speaking. Welcome to the Prison, where you are SENTENCED to play! Can you survive the harsh prison life? Can you escape before your execution?
****NO ADS AND IAP ALLOWED****
Prison Life RPG is a premium game with no ads or in-app purchases. Hurray!
PRISON BROCHURE
Prison Life RPG is a Roguelike+Survival+Simulation+Role-Playing game that places you behind bars. To survive the punishment of the penitentiary system, you'll need to stay healthy and fit, gain allies, eliminate enemies, bribe the guards, bet in illegal boxing matches, and more while pushing for parole or planning an escape.
PRISON CAPACITY
With more than 100 prisoners to interact with, you'll never feel bored! You can play as any one of the 100 prisoners!
PRISONER ACTIVITIES
Watch TV, call your grandma, learn skills, craft items, get bullied, wash toilet, flirt with the pretty Doctor in Sick Bay, bribe the guards or just idle around!
SOCIAL RELATION
Make friends and join gangs to increase your defense, fighting, and, of course, escape power. Be careful though, prisoners your offended will beat you up or even kill you!
PLOT YOUR ESCAPE
There are many ways to break out of prison. You just need to collect the proper tools and talent to pull off the perfect plan!
PRISON FEATURES:
◆100 prisoners to play as, each with his own Personal Goal/Mission
◆18 skills to learn and master
◆4 gangs to join and climb up the ranks
◆Recruit up to 7 inmates in your escape plan
◆80+ items to collect or craft
◆126 nicknames/achievements to earn
◆20+ different jobs
◆Different ways to escape from prison
◆You will die plenty of times
ROAD TO FREEDOM
Behave and get released? Arrange early parole with lawyer? Suicide? Break out from prison with an escape team? Become the Gang leader? Executed?
The choice is yours, prisoner.
ABOUT THE PRISON
Took more than a year to construct, the warden guarantees that this prison is deep, challenging and will lock you up for hours!
SOLITARY CONFINEMENT
Download this game now or I'll send you to the hole!
Lights out!
Warden
Follow the Warden on twitter: https://twitter.com/nobstudio
SURVIVAL GUIDE: http://mypartimespace.blogspot.sg/2015/02/prison-life-rpg-guides.html
Discuss prison life and more reviews in Toucharcade: http://forums.toucharcade.com/showthread.php?t=255996
Reddit: http://www.reddit.com/user/nobstudio/
GAME REVIEWS
FantaBobGames: Let's Play Prison Life RPG youtube series in French
modern jamming: Detailed review + Tips and Tricks
http://www.modernjamming.com/games/prison-life-rpg-prison-life-simulator
idownloadblog: Survive, escape, or die in prison
http://www.idownloadblog.com/2015/03/17/prison-life-rpg-review-survive-escape-or-die-in-prison/
Indie Love: The Role Playing Prison Game You Never Knew You Wanted
http://indie-love.com/2015/03/16/prison-life-rpg-the-role-playing-prison-game-you-never-knew-you-wanted/
iPhonefaq: iOS App of the Week: Prison Life RPG
http://www.iphonefaq.org/archives/974332
MY PART TIME SPACE: Prison Life RPG iOS Game Review
http://mypartimespace.blogspot.sg/2015/02/prison-life-rpg.html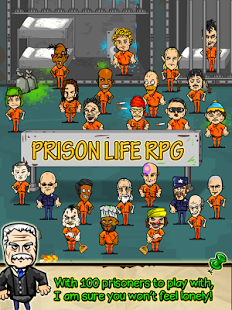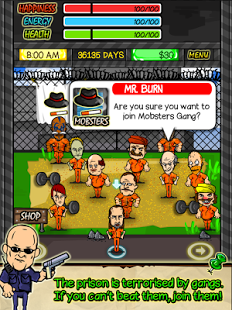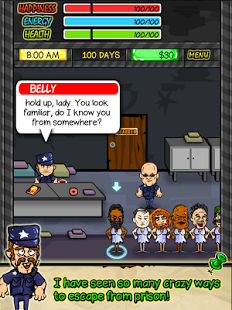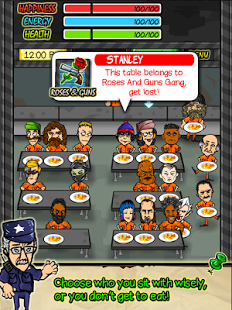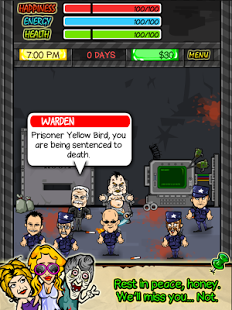 What's new
version 1.4.0
Traditional Chinese translation only. Don't have to update if you don't need it!
version 1.3.5
Fix: sentences add up instead of replaced
Fix: You & non-exist prisoners won't hate you
Fix: A rare gang promo bug I don't bother to explain
version 1.3.4
Fix: Mobster gangsters lying
Note: Please report any bugs and warden will crush it ASAP!
Gameplay video
 How to install Android game? Learn here!