Info
Developer:
Outfit7
Download size:
71Mb
Version:
3.6.3.42
Requires
Android
: 4.1 & Up
Download
Description
Discover the #1 games app in 135 countries! Adopt your very own baby kitten and help him grow into a fully grown cat. Take good care of your virtual pet, name him and make him part of your daily life by feeding him, playing with him and nurturing him as he grows.
Dress him up any way you like and pick from a wide selection of fur colors and other accessories. Decorate his home and check out how others decorated their My Talking Tom homes. Play games with your Tom and watch as he becomes a part of your everyday life.
FEATURES:
– Play over 10 mini-games: Happy Connect, Bubble Shooter, Planet Hop and more! Earn gold coins and have fun!
– Nurture your very own Tom: Play games with him, feed him his favorite foods, tuck him into bed.
– Visit your friends & other players' Talking Toms: Check out the apartments and look of other Toms, find treasure chests and get coins!
– Enjoy life-like emotions: Tom can be happy, hungry, sleepy, bored… his emotions change according to how you play with him.
– Unleash your creativity: Create your very own Tom by choosing from 1000's of combinations of furs, clothing and furniture.
– Get rewards as you progress: Help Tom grow through 9 different stages and 999 levels unlocking new items and coins as you go!
– Interact with Tom: Talk and Tom still repeats everything you say. Poke, stroke and tickle him, and watch how he responds.
This app is PRIVO certified. The PRIVO safe harbor seal indicates Outfit7 has established COPPA compliant privacy practices to protect your child's personal information. Our apps do not allow younger children to share their information.
This app contains:
– Promotion of Outfit7's products and contextual advertising
– Links that direct customers to our websites and other Outfit7 apps
– Personalization of content to entice users to play the app again
– The possibility to connect with friends via social networks
– Watching videos of Outfit7's animated characters via You Tube integration
– The option to make in-app purchases
– Items are available for different prices in virtual currency, depending on the current level reached by the player
– Alternative options to access all functionalities of the app without making any in-app purchases using real money
Terms of use: http://outfit7.com/eula/
Privacy policy: http://outfit7.com/privacy-policy/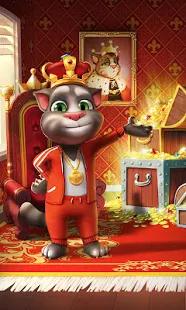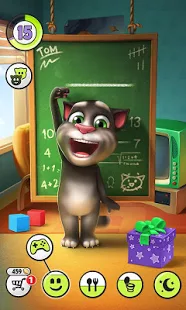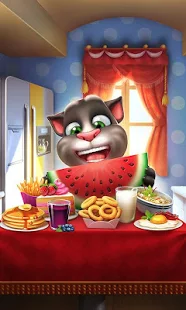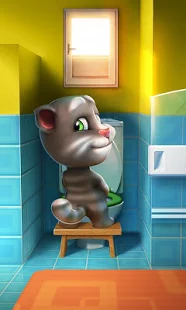 What's new
OPEN DOOR POLICY: Check out your Tom's new moves in the bathroom.
TRACK YOUR FRIENDS: Compare your friends' progress with your own to see how far they've come.
ACHIEVEMENT UNLOCKED: Complete tasks with your Tom to earn brand new Achievements.
SUIT UP: Get a brand new secret outfit for your Tom... when the time is right.
 How to install Android game? Learn here!