Info
Developer:
Mochi Game Studio
Download size:
50Mb
Version:
2.35.060
Requires
Android
: 2.3.3 & Up
Note:
! Game is in Indonesian
Description
English Description:
Shinobi Ninja Heroes is the latest MMORPG game of Mochi Game Studio. The game is a story of Ninja Anime series are very popular. Run hundreds of ninja missions every day and become the greatest ninja to defeat all the enemies in the Arena. Recruit hundreds of best ninja to help you conquer all the beast and save the village of Konoha now!
Game Ninja with Best feature:
★ ★ Summon Bijuu
Practice ten strongest beast to help in the fight as a pet. Each beast has different characteristics and attributes ranging from Ichibi until Jubi. Ninja powerful are those who have the strongest bijuu!
Hundreds of Ninja ★ ★ Recruit
Hundreds strongest ninja ready to help in any battle. Each ninja has different characteristics and abilities. Recruit them all as a partner in attack, defend, or as a medical ninja.
Evolution Ninja ★ ★
Through a variety of specific exercises you can do the evolution of the ninja partner you have. Upgrade ninja partner that you have to see their true strength. As a true ninja, you have unlimited capability.
★ ★ Chakra System
Chakra or energy inside is a source of strength for all Shinobi Ninja Heroes. Train Chakra in you and feel the real power of a Ninja. With Chakra great strength and you will get closer to your destiny as the Hokage!
★ ★ Mission and Event Day
The game will not be boring with a rich assortment of events and daily missions and various kinds of interesting features. Lead guildmu, Defeat World Boss, strengthen arms, train all ninjamu partner and be the strongest in Shinobi Heroes!
Boss Battle ★ ★
Kalahkah strongest enemy who attacked the village of Konoha. Fight with thousands of other ninja to beat World Boss. Nothing is impossible if you do it together. Be prepared!
DOWNLOAD and PLAY NOW!
Official Website: sh.mochigamestudio.com
Official Fanpage: facebook.com/shinobiheroes.mochigames
Original Description:
Shinobi Heroes adalah game MMORPG Ninja terbaru dari Mochi Game Studio. Game ini mengangkat cerita dari serial Anime Ninja yang sangat terkenal. Jalankan ratusan misi ninja setiap harinya dan jadilah ninja terhebat dengan mengalahkan semua musuhmu di Arena. Rekrut ratusan ninja terbaik untuk membantumu menaklukkan semua bijuu dan selamatkan desa Konoha sekarang juga!
Game Ninja dengan Fitur Terbaik:
★Summon Bijuu★
Latihlah sepuluh bijuu terkuat untuk membantumu dalam pertarungan sebagai pet. Setiap bijuu memiliki karakteristik dan atribut yang berbeda mulai dari Ichibi sampai dengan Jubi. Ninja terkuat adalah mereka yang memiliki bijuu terkuat!
★Rekrut Ratusan Ninja★
Ratusan ninja terkuat siap membantumu dalam setiap pertempuran. Masing-masing ninja memiliki karakteristik dan kemampuan yang berbeda. Rekrut mereka semua sebagai partnermu dalam menyerang, bertahan atau sebagai ninja medis.
★Evolusi Ninja★
Melalui berbagai latihan khusus kamu bisa melakukan evolusi terhadap partner ninja yang kamu miliki. Upgrade partner ninja yang kamu miliki untuk melihat kekuatan sejati mereka. Sebagai seorang ninja sejati, kamu memiliki kemampuan yang tak terbatas.
★Chakra System★
Chakra atau tenaga dalam adalah sumber kekuatan untuk semua Ninja di Shinobi Heroes. Latih Chakra didalam dirimu dan rasakan kekuatan sesungguhnya dari seorang Ninja. Dengan kekuatan Chakra yang hebat maka kamu akan semakin dekat dengan takdirmu sebagai Hokage!
★Misi dan Event Harian★
Permainan tidak akan terasa membosankan dengan banyaknya pilihan event dan misi harian dan berbagai jenis fitur yang menarik. Pimpin guildmu, kalahkan World Boss, perkuat senjata, latih semua partner ninjamu dan jadilah yang terkuat di Shinobi Heroes!
★Boss Battle★
Kalahkah musuh terkuat yang menyerang desa Konoha. Berjuanglah bersama ribuan ninja lainnya untuk mengalahkan Boss Dunia. Tidak ada yang mustahil jika kamu melakukannya bersama-sama. Bersiaplah!
DOWNLOAD dan MAINKAN SEKARANG!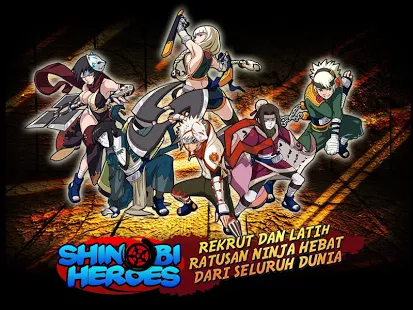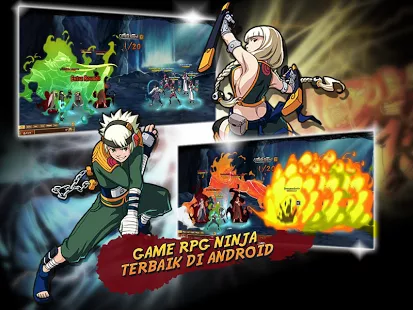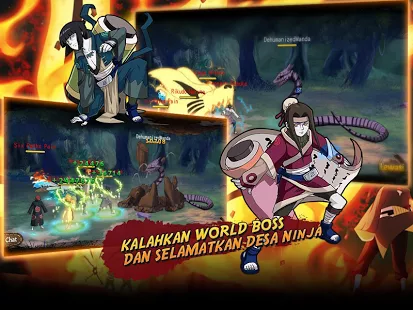 What's new
- Miscellaneous bug fixes.
 Download apk - 50Mb
 Google Drive
 How to install Android game? Learn here!