Info
Developer:
Reliance Big Entertainment (UK) Private Limited
Download size:
500Mb
Version:
33.33.925
Requires
Android
: 4.0.3 & Up
Download
Description
STAR ROBOTS ARE HERE!
Fight the greatest ranked robot brawlers among 100 million WRB players in exciting Global Multiplayer battles. Transform the legends Atom, Zeus, and all-time favorite champions into powerful 1, 2, 3 and 4 Star Robots to win big in Versus Leagues & Global Tournaments. Top the Leaderboards, claim the Championship title and reign supreme as the Ultimate World Robot Boxing Champion.
Achieve greatness in the future of boxing, where gigantic robots pack powerful punches. Unleash your fighting style with deadly jabs, uppercuts & special moves to win world championship belts, collect trophies & knockout friends!
UNLEASH ROBOT TITANS
Towering over 9 feet tall and weighing over 2000 pounds are your 58 ultimate fighting machines, robot titans & legends including fan favorite superstars – Zeus, Atom, Noisy boy & Twin Cities.
BRAWL REAL-TIME WITH FRIENDS
Unleash your true self in live local Wi-Fi & Bluetooth multiplayer and earn bragging rights while enjoying the winning moment!
WIN EXCITING CHALLENGES!
Play Career, Multiplayer and the new Winner Takes All Mode to become the All-Category Champion.
EXPERIENCE REAL SPORTS ACTION
Build a roster of your favorite sport robots and take on the Legends in enthralling arenas and stadiums.
UPGRADE & COLOR YOUR CHAMPION
Fight and Upgrade your robot to be stronger, faster and meaner. Color your robot, express yourself and have some fun in the Paint shop!
SHOWCASE YOUR TRIUMPHS
Win Challenges and exhibit your achievements in an all new Trophy Room.
ACHIEVE GLORY IN ARENAS
Reign supreme in 11 huge arenas that can barely contain these hulking mean machines.
RELIVE THE INSPIRING MOVIE
Play the official boxing game of the blockbuster movie Real Steel. Take your robot champion from the movie for amazing title winning experiences in this smash hit sequel.
JOIN THE ELITE CLUB OF REAL STEEL FANS
Enjoy regular news on game updates, robots, features, views, video tips and more for Free
Like us on Facebook: https://www.facebook.com/RealSteelWorldRobotBoxing
Follow us on Twitter: https://twitter.com/realsteelgames/
Capture player moments on Instagram: https://instagram.com/realsteelgames/
This game is completely free to download and play. However, some game power-ups can be purchased with real money within the game. You can restrict in-app purchases in your store's settings.
* Permission:
– ACCESS_FINE_LOCATION: To determine your location for region based offers.
– READ_PHONE_STATE : To Detect Phone State during Gameplay, Pause, Incoming Call, and handle Internet issues elegantly.
– BATTERY_STATS: Allows an application to collect battery statistics
– GET_TASKS: Allows application to get information about currently or recently running tasks.
– RECEIVE_BOOT_COMPLETED: Allows an application to receive the ACTION_BOOT_COMPLETED that is broadcast after the system finishes booting.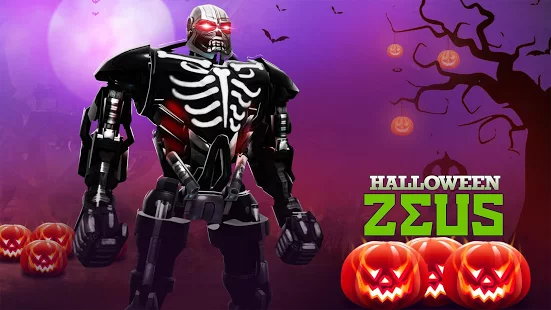 What's new
WRB Halloween Howl
Win incredible Halloween Zeus at 25% discount in Fright Night Live Event
Redeem 2X score multiplier by playing PvP with Halloween Zeus
Build a lethal team with HollowJack, Dreadlord and Fiend, available in Special Halloween Robot Pack at 35% discount
Gameplay video
 How to install Android game? Learn here!
Keywords: Real Steel World Robot Boxing hack, Real Steel World Robot Boxing apk, Real Steel World Robot Boxing game, Real Steel World Robot Boxing mod apk