Info
Developer:
JOYCITY Corp.
Download size:
99Mb
Version:
1.12.00
Requires
Android
: 4.0.3 & Up
Download
Description
Prepare yourselves to takeoff for Second War.
Confront fierce battles and survive the aftermath of war!
It's now the 1950s and the Great War has ended, but the Jade Mercenaries still find themselves in another maelstrom.
Become a member of the Jade Mercenaries and wreak havoc over the battlefield with the most powerful gunships in history: The Spitfire, Warhawk, and Saetta.
Prove that you are worthy to be named as the Ace Pilot in the Second War.
With upgraded graphics, customizable gear, new cockpit mode, special missions, and much more!
▶ Game Features ◀
★ New Stories with New Gunships
★ A variety of Cutomizable Gear
★ New realistic First-Person Gameplay, Cockpit Mode
★ Endless Competition with other Pilots, Challenge Mode
★ Test your pilot skills, Special Mission
This game is free to play, but you can choose to pay real money for some in-game items. Please note that some paid items may not be refundable depending on the type of the items.
—-
Get New Information from our Homepage. http://gunshipbattle.joycity.com/
—-
Contact:
Joycity Corps, 463-824, 11th Floor Bundang First tower 55 bundangro bundanggu sungnamsi Gyunggido Corporate registration number: 116-81-54101
Online Marketing Business Report: Gyunggi Sungnam 2007-129
Phone: 031-789-6500
◆Access Authorizations in JOYCITY Games
1. Access to Make and Manage Phone Calls (READ_PHONE_STATE)
(When the game starts) It is essential to be able to identify the device for Guest Login (immediate start). Access to [Make and Manage Phone Calls] includes information to identify the device, and you will be unable to login to the game if you deny the access request.
2. Access to Contacts (GET_ACCOUNTS)
(When logging into the game) It is essential to be able to identify the Google account registered in the device for Google Login. [Access to Contacts] includes information to read the Google account. You will be unable to login to the game if you deny the access request.
3. Access to Photos, Media, and Files (READ_EXTERNAL_STORAGE, WRITE_EXTERNAL_STORAGE)
(When game updating) We need your permission to save the update files onto your device's SD card. [Pictures, Media, File Access] includes the authority to access SD card. If you refuse the request, you will be unable to login.
* Phrases used in [ ] may differ based on the device and OS version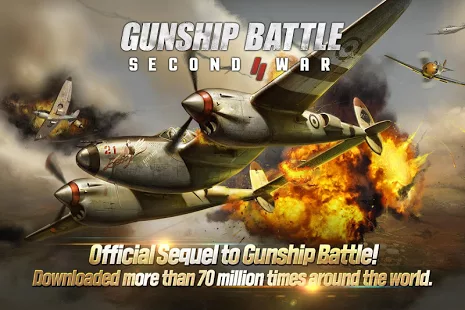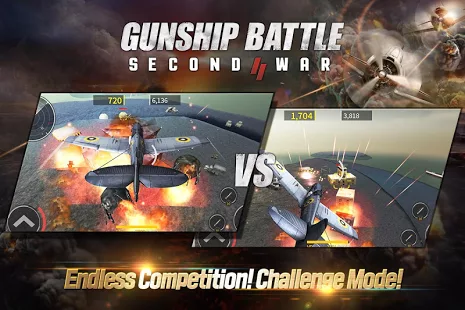 What's new
1. New Gunship SB2C Helldiver (Tier 6) has been added.
Have any feedbacks?
Leave a review or contact our customer support(
[email protected]
) for any inquiries.
Gameplay video
 How to install Android game? Learn here!
Keywords: Gunship Battle Second War apk, Gunship Battle Second War Android