Info
Developer:
Zynga
Download size:
94Mb
Version:
1.0.2551
Requires
Android
: 4.1 & Up
Description
Match 3 down THE YELLOW BRICK ROAD™ in a magical puzzle adventure game featuring DOROTHY™, the SCARECROW™, the TIN MAN™ and the COWARDLY LION™!
Magic awaits in the EMERALD CITY™! Join the fun by solving puzzles and unlocking magical movie Moments! Learn fun facts and trivia, and see never-before-seen stills from The Wizard of Oz! Discover the rarest Moments to learn more about your favorite movie!
Match your way to meet the wonderful Wizard of Oz in this amazing puzzle adventure!
The Wizard of Oz: Magic Match Features:
MATCH 3 IN THE LAND OF OZ!
– Match 3 with new and unique gameplay based on the beloved Wizard of Oz movie and characters!
– Matching brings you farther down the Yellow Brick Road with hundreds of exciting levels to overcome on your way!
– Match even faster with bonuses and power-ups from GLINDA THE GOOD WITCH™! Use Dorothy's RUBY SLIPPERS™, Munchkin Lollipops and the Tin Man's Axe to solve puzzles!
– Get help from your favorite movie characters by dropping their Medallions to the bottom of the board. They will appear and provide assistance on your current level!
BATTLE AGAINST THE WICKED WITCH!
– Match 3 or more gems against the WICKED WITCH OF THE WEST™ as you battle to reach The Wizard of Oz.
– The fantasy comes to life as you take on the Wicked Witch in turn-based matching combat.
ADVENTURE IN A MAGICAL WORLD!
– Visit Munchkinland, the Haunted Forest, and more enchanting locations on your way from Kansas to the Emerald City!
– Discover brand new levels and your favorite beloved characters in each new region you unlock.
– Adventure with friends from Facebook, sharing gifts as you go.
COLLECTIONS – MOVIE FACTS & MOMENTS!
– Unlock and collect new Moments for an all-new perspective on classic scenes from the film!
– Learn fun facts about your favorite movie! Collect each type of Reel containing Moments to complete Sets for big rewards and to unlock the full magical experience!
DAILY REWARDS AND EVENTS!
– Redeem Dorothy's Daily Reward for a new bonus each day!
– Win amazing prizes every day and join Happy Hour Events for even more!
– Come and take part in weekly events, where you can face off against the Wizard of Oz himself, and other fun characters!
Download The Wizard of Oz: Magic Match and relive the magic of The Land of Oz today!
Already enjoying The Wizard of Oz: Magic Match? Like us on Facebook to stay up-to-date on the latest content, newest levels, exciting contests, and more. https://www.facebook.com/TheWizardOfOzMagicMatch/
ADDITIONAL DISCLOSURES • For specific information about how Zynga collects and uses personal or other data, please read our privacy policy at http://www.zynga.com/privacy/policy.• This game does permit a user to connect to social networks, such as Facebook, and as such players may come into contact with other people when playing this game. Social Networking Service terms may also apply.• The game is free to play, however in-app purchases are available for additional content and premium currency. In-app purchases range from $0.99 to $99.99.• You will be given the opportunity to participate in special offers, events, and programs from Zynga Inc and its partners. Use of this application is governed by the Zynga Terms of Service, found at http://m.zynga.com/legal/terms-of-service. Collection and use of personal data are subject to Zynga's Privacy Policy, found at http://www.zynga.com/privacy/policy.
THE WIZARD OF OZ and all related characters and elements are trademarks of Warner Bros. and Turner Entertainment Co. (s16)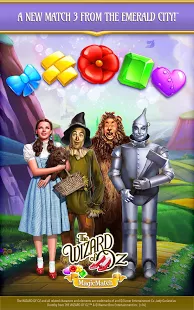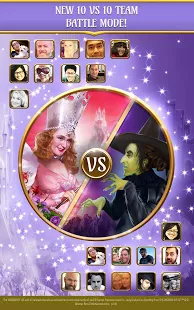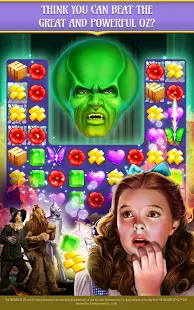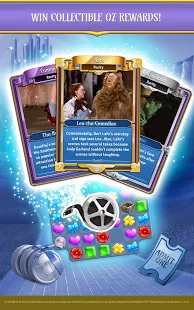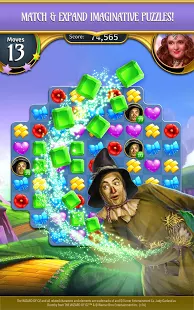 What's new
It's The Wicked Witch vs. Glinda! The Team Battle event is HERE!
- Pick your Team and Battle through a brand-new Region, earning Rewards and exciting Bonus Prizes!
- Our all-new Hourglass hazard is coming. Will time be on your side?
- New Levels coming every week! Keep moving on your wonderful journey through Oz!
We thank you for your support! Found an issue with the game? Please reach out to our amazing Customer Service team @ http://bit.ly/29Vu2CU. We want to hear from you!
YouTube video
 Download apk - 94Mb
 Google Drive
 Download mod apk(hack) - 94Mb

 Google Drive
 How to install Android game? Learn here!